COGNITIVE BEHAVIOURAL THERAPY / COGNITIVE THERAPY
What is CBT?
Cognitive Behavioural Therapy (CBT) is a very effective talking therapy that explores
how you think about yourself, the world and other people

how what you do affects your thoughts and feelings.
CBT is a collaborative therapy that supports individuals to change how you think ('Cognitive') and what you do ('Behaviour'). These changes can help you to feel better. Making changes in what we think will affect what you do and feel, and changing what we do, affects the way we think and feel.  Making these changes then can help us feel better.   Unlike some of the other talking treatments, it focuses on the 'here and now' problems and difficulties. CBT acknowledges the past but it looks for ways to improve your wellbeing now.
People can get into habitual patterns of thinking.
People with anxiety often have patterns of thinking that are fear related.
People with depression often have patterns of thinking that are negative related in their past, present & Future.
CBT can help you to break these vicious cycles of negative thinking, feelings and behaviour.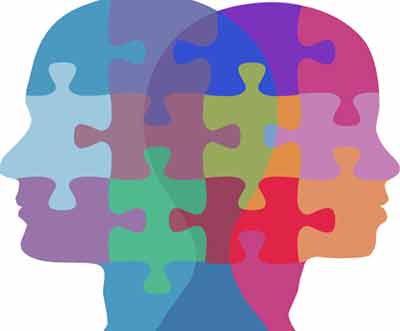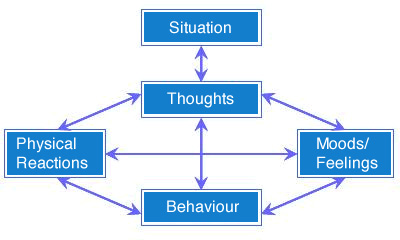 WHEN DOES CBT HELP?
CBT has been shown to help with many different types of emotional and psychological issues including anger, anxiety, depression, panic, phobias (including agoraphobia and social phobia), stress, bulimia, obsessive compulsive disorder, post-traumatic stress disorder, bipolar disorder and psychosis, low self-esteem, chronic pain and chronic fatigue.
How does it work?
CBT empowers the individual to address their low mood by helping them to interpret their reactions to situations.
Each of these areas can affect the others. How you think about a problem can affect how you feel physically and emotionally. It can also alter what you do about it. There are helpful and unhelpful ways of reacting to most situations, depending on how you think about them.
How effective is CBT?
It is one of the most effective treatments for conditions where anxiety or depression is the main problem.

It is the most effective psychological treatment for moderate and severe depression.

It is as effective as antidepressants for many types of depression.
CBT is as effective as antidepressants for many forms of depression. It may be slightly more effective than antidepressants in treating anxiety.
CBT in Perspective
CBT is not a quick fix. A therapist is like a personal trainer that advises and encourages – but cannot 'do' it for you.

If you are feeling low, it can be difficult to concentrate and get motivated.

To overcome anxiety, you need to confront it. This may lead you to feel more anxious for a short time.

A good therapist will pace your sessions. You decide what you do together, so you stay in control.
Frequently Asked Questions about CBT
Call Dr. Eddie Now To Discuss Your Needs – 0871302899